Testimonials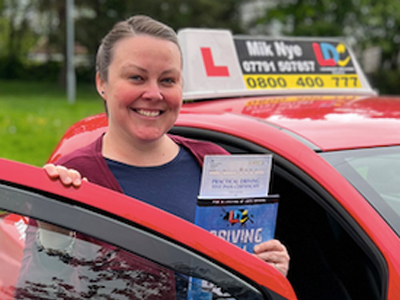 Rebecca Robertson
1st Time Pass
Having put off learning to drive for some time, I came to Mik as a fairly nervous and anxious pupil. He put me right at ease however, with his professional yet relaxed approach to teaching, and I soon found that I was looking forward to my lessons rather than being nervous about them. I have found that Mik's use of the LDC system has worked wonders for me, as it keeps a positive focus on what is going right in the lesson, without dwelling on the mistakes which may have been made, hence producing more confidence in myself as a driver, and allowing me to retry the skills where I had previously made mistakes without any negativity hanging over me. We worked through the workbook and lessons at my pace, and i found Mik to be very supportive, patient and genuine - no question was deemed foolish or unnecessary, and he always ensure that I had the latest and most relevant information in regards to the highway code etc ensuring that I could be the best prepared, safest driver possible. I would 10 out of 10 recommend Mik in the LDC system.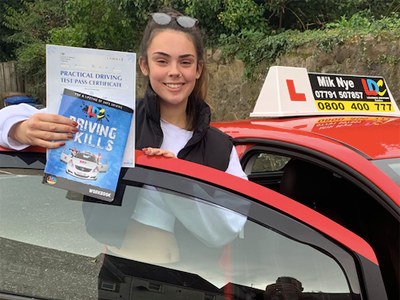 Amy KERR
Pass at Second go
Mik is a fantastic instructor. He takes time to make sure you understand everything and never makes you feel silly for making a mistake. As someone who has a lot of driving anxiety, Mik made every lesson a comfortable and relaxed experience and he has the patients of a saint ! He uses lots of different resources to teach, making it accessible and very easy to understand. I found the LDC workbook a very useful tool to consolidate my learning, and in preparation for the next lesson. Mik was always on time, if not early for every lesson and would spend extra time at the end of it to make sure to reflect on how the lesson went. You can tell how much he cares about his pupils and really wants them to succeed. I would recommend Mik to anyone learning to drive, He is a credit to LDC and i am extremely grateful for all his help and support.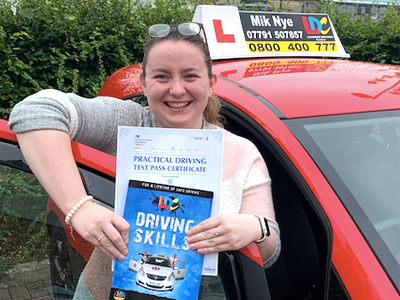 Chelsea
A pass at 2nd time of asking
Mik is a kind, funny and patient instructor. I have really liked his way of teaching and his methods. He could tell when i was overthinking things in my head as he could tell it was affecting my driving. He always made me smile and laugh when i was in a bad mood due to my driving. I felt comfortable talking out aloud as we found out that it worked for me and i had a really good drive. Overall, i had a great lesson, every time.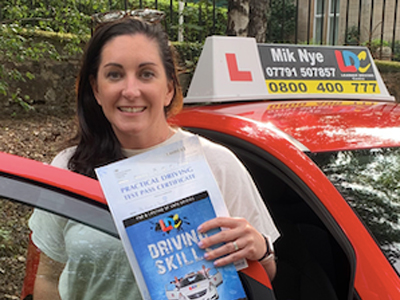 Fiona DONALD
1st Time Pass
Mik is an excellent instructor. He is very knowledgable about the course requirements and offers his explanations in a verbal and diagrammatic form. He has plenty of visual resources in the car to support learning of the roads, signage and manoeuvres. His attention to detail is consistent and thorough. Communication was timely and of a very high quality. He arrived punctually and gave 100% every lesson, including a briefing and notes at the end. I passed first time - So that speaks for itself! Thank you Mik.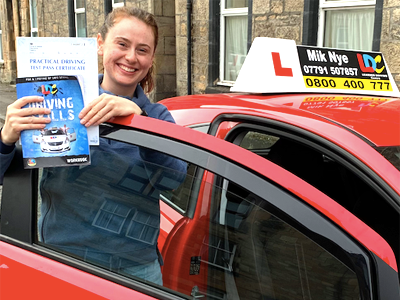 Sinead Hegarty
At Long Last
Mik has been an amazing Instructor. He's really clear and helpful, always making things easy to understand. Its been great getting lessons from Mik, You're able to have a good laugh and learn at the same time. Mik really puts time into his students, there's been many lessons that he's given me extra time just to practice or to perfect a manoeuvre. As a nursing student I have a really busy schedule between work and placement. Mik has been really flexible in accommodating lessons and and even starting lessons from my placement if they were near by. Mik has always been on time and is extremely reliable, and very fast at getting back to you about messages you send, I've really learned to be more confident in my abilities thanks to Mik. I would recommend him 100%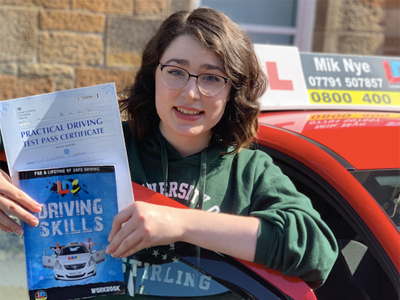 Kirsten Larner
Passed first time
Learning to drive has been some what of a long journey for me. Mik is an excellent instructor as he has incredible patience which was definitely tested by me. Mik took the time to explain and reflect on mistakes I made, and turned them into something to learn from rather than letting them bog me down!! He broke down manoeuvres into easy simple step instructions, that I was able to understand. Mik always arrived early for every lesson with a cheery 'hello'. I would definitely recommend Mik to others , his patients teamed with his sense of humour made for enjoyable lessons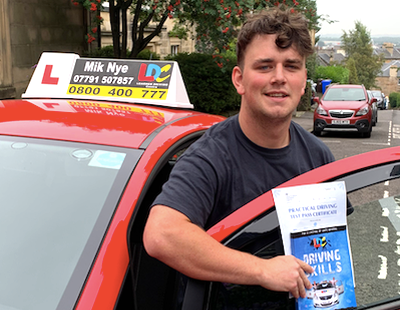 Hugh Goovaerts
What an Experience
My experience learning to drive with Mik was perfect. Being a foreign student I did not have the access to a parents car to practice. With Mik I was given the opportunity to learn in a safe environment, and practice and build in confidence at a rate that suited my learning ability. When I made mistakes, I knew I was in safe hands and there was always a clear explanation as to what I was doing wrong and how to amend it in a way that suited myself.
Lessons were very enjoyable and well managed. A lot of time was spent going over the basics which helped build my confidence in the car and maintaining control. Once I became comfortable in the car and on the main roads Mik's lessons were organised perfectly to face new challenges and experiences which helped me progress quickly to more advanced levels of driving. I looked forward to every lesson and felt both comfortable and challenged which helped me to improve constantly. Miks lesson are organised exceptionally. He is early to every lesson and maximises the time in the car and always debriefs efficiently at the end of every lesson, what went well and what not so well. This helped us recognise which of the skills needed more work for the forth coming lesson.
I was very impressed with Mik organisational skills, every evening before my lesson I would receive a text reminding me of when the lesson was. Mik was also very accommodating around my schedule with University classes. Beginning lessons at the University due to my schedule, and finishing them at either my place of work or home, which I greatly appreciated I was able to be efficient with driving lessons whilst not losing out on work or academic studies.
Overall, I had a fantastic experience learning with Mik, even with the breaks due to COVID and their restrictions. I constantly felt safe and always came away from lessons learning more. I enjoyed the process and was extremely happy with my experience. I would recommend Mik for driving lessons, unreservedly.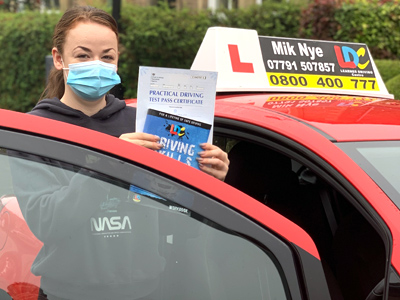 Ebbe GALBRAITH
Succesful Pass
Having not had a great Instructor before, Mik made driving lessons stress-free and enjoyable. He is clear with his instructions and has a very calm and friendly demeanour which makes it easy to learn. The workbook is also a very beneficial tool to have and allows you to spend your lessons putting into practical practice what you have learned theoretically.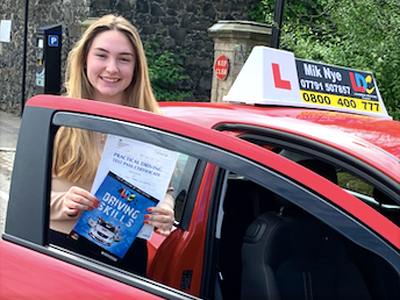 Sadie Clac-Mansfield
Pass
Mik is a brilliant Instructor who is never late to lessons, infant early to them all. He is easy to talk to and has an amazing way of explaining complex manoeuvres. His help at the end of the lessons to reflect and evaluate are extremely beneficial. Mik pushes you to become the very best and was able to enhance my confidence when driving. He's very professional and i have had great lessons with him. I would highly recommend Mik for anyone wanting to be a confident driver.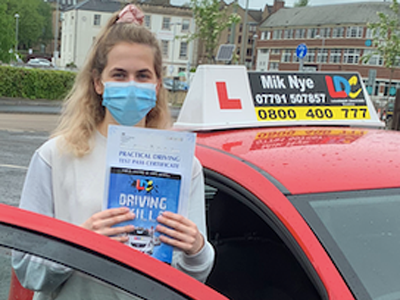 Becca Baxter
1st Time Pass
Mik has been an amazing instructor. He is very professional, easy to talk to and get along with. This teaching style worked well for me. He always asks/includes you in your learning and planning of lessons. He is always organised and on time and very reliable. The LD workbook also really helped me as i had never driven before. It helped me gain some confidence and give me something to look over before and after the lessons. The theory preparation was very helpful. I studied with this and passed first time! Mik was also very supportive with theory prep and was always available, or would get back to you very quickly to talk to me about any questions I had about my theory or any other general questions. Overall I have really enjoyed my time learning with Mik. I have and will continue to recommend Mik to anyone that wants to pass their test and then go on to be a good, safe and confident driver. I have nothing but Positive things to say about Mik and LDC and their teaching methods.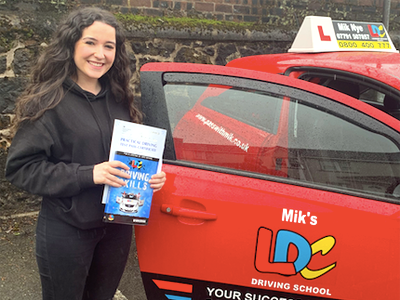 Caoimhe Cleary
Fantastic First time Pass
Mik was an excellent instructor. Always had helpful words and tips for different things including the manoeuvres. Very easy to ask questions on anything I wasn't fully sure on, and could always work around my work schedule for my lessons. Mik always instilled confidence in me and knew how to push me out of my comfort zone, safely. He provided me with the resources to pass my test first time. I would highly recommend to learn to drive with Mik.
Kayla Gordon-Keylock
Still Learning
Mik has been since the start very relaxing and always assuring me of my capabilities, never making any of my mistakes an issue, but something to remember and learn from. The way the LDC System teaches the learner, has been extremely beneficial to me, as when i started I had only been with private instructors who did not use all of the same methods. This provided good preparation resources, which contained all the information regarding your test. This helped my driving and confidence massively.
Mark Lewis
Excellent Driving Tuition
Mik is a fantastic instructor and goes into great detail on how a car works from the engine, clutch, brakes, gears, steering, acceleration and anything else. I really felt when i walked away from each lesson I was learning more and more. What made it easier for me is that he is clear, concise and articulate. Mik breaks complex techniques into easy to understand blocks of information for you to understand, all in order to help bring out the best driver you can be. The LD System Workbook was also very effective for me to keep up with my driving performance through study in between each lesson. I would highly recommend LDC and Mik, which is why I give Mik a rating of 5.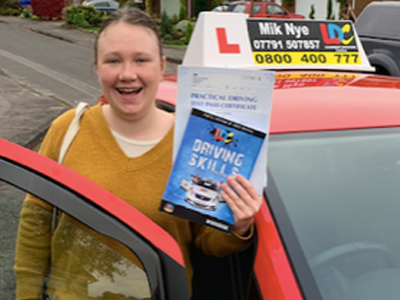 Ciara McAleenan
An excellent instructor, very reliable and flexible, happy to work around my difficult schedule. Always provided honest and constructive feedback, many handy hints and tips for improving driving. Good flow of conversation and easy to ask questions.

Provides lots of resources for passing both the theory test and practical test. Very good pre-test pep talks.
10/10 would learn to drive with Mik Nye again.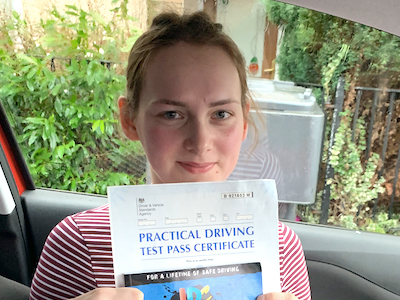 Megan Perry
First Time Pass
I really enjoyed learning to drive with Mik. He made the lessons fun and engaging and was very patient. The workbook provided was lots of help and was particularly good at explaining the different manoeuvres. I liked that the book provided you with details of what the examiner was looking for in the test. The videos were helpful as they showed clearly how to carry out the different manoeuvres.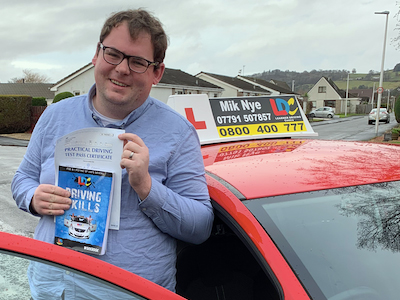 James Palmer
First Time Pass
Mik is an excellent instructor, he is professional, calm and incredibly patient, with a good sense of humour. He has high standards and expects the best from those that he teaches, which always get results. I passed first time and i believe that all of that was down to Mik's instruction.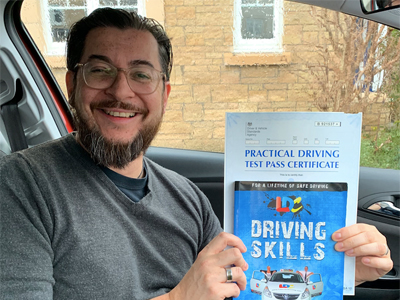 Greg SINGH
2nd Time lucky
The resources provided were very useful throughout the learning Journey. Mik went through the materials regularly and periodically, referring to specific sections where the reading and viewing would help support the practical side. Mik is a very good communicator, and has a very direct style which sets a solid grounding for learning. As someone completely novice to driving, and with lots of confidence issues to begin with, i found Mik's style extremely beneficial and giving me the basis to build confidence quickly, with a realistic outlook on how things were developing. confidence is something that we worked on throughout the learning journey, and is something that will continue thanks to the lessons mik has imparted.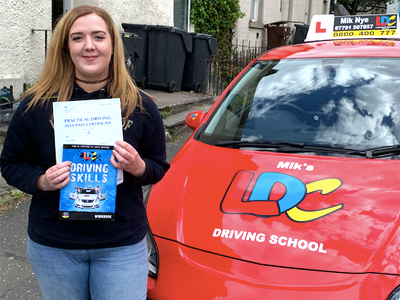 Ceri Devlin
Driving Test Pass for Anxious Driver
When I first decided to take driving lessons, I was very anxious about the whole process. But Mik was an excellent insturctor, he was very patient, knowleageable and appraochable, which made me feel much calmer. Having an insturctor who was professional, but you could also have a laugh with, made my learning experience an enjoyable one. I found the LD system very helpful; the workbook and videos were informative and easy to understand, which allowed me to gain a better understanding of all aspects of driving in my own time. Through the workbook and online student hub, I was able to track my progress ,which I found extremely helpful. The practice questions for the theory test were also a great help. I would highly reccommend Mik and the LD system of learning for anyone who wants to become a safe and confident driver.
Jenni Connelly
Passed First Time
Having a medical condition which restricted my driving, I wasn't sure that I wanted to learn how to drive. I waited 7 years after it was safe for me to drive to decide that i wanted to learn. Along with being a little older this made me a very nervous driver. From day 1, Mik understood this and made me feel extremely comfortable. Every lesson he adapted to ensure I was comfortable with what we were doing. He got to know me pretty well and knew how to push me outside my comfort zone to a level that helped my confidence with driving but never where i felt unsafe. Mik understood my learning methods and adapted his teaching style to incorporate this. He sent me additional information which helped me build my skills when out with the lessons. Even though I was nervous driving which made me worry about driving which made me worry about the lessons, Mik made me feel at ease and we had a laugh which helped me with my learning process. With Mik teaching, I was able to pass first time with only 3 minor faults. I find practical learning very difficult as i am used to learning through books. The LDC book had all the information I needed to understand the skills behind driving and they were enhanced by Mik's teaching method. The website, specifically the practice questions for the theory test were extremely useful. More videos of manoeuvres or mock tests would be very useful.
Brogan Stacey
My learning experience was a thoroughly enjoyable one and one that I would highly recommend to anyone looking to become a confident and responsible driver.
As someone who is a little older, I was looking for a way to learn how to drive quickly for employment reasons. I enjoyed the flexibility and choice that was offered by the LDC and their promotion of student-centred learning. This allowed me to develop areas of my driving that I felt less confident in. The combined use of the Workbook and Online Videos contributed greatly in developing my understanding of the roads, its markings and dangers. I particularly felt that the online resources were incredibly well-made and effective in preparing me for the Theory Test and for in developing my overall 'hazard perception'.
My instructor was very patient, knowledgeable and motivating, putting me well at ease throughout my learning experience. His constant assurance and insight allowed me to gain confidence quickly. He was able to communicate constructively to ensure that we were both safe at all times. The comfortable and friendly atmosphere created by my instructor is definitely the main reason I would promote this driving school and its courses to other people. Learning to drive can be a daunting experience, however the LDC instructors are incredibly capable and friendly enough to successfully guide you through!
I cannot rate my experience high enough!
Call today on 07791 507857 or Email me to find out more
If you have any questions or to book lessons today, feel free to contact me