Testimonials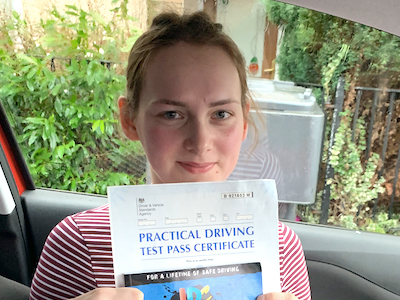 Megan Perry
First Time Pass
I really enjoyed learning to drive with Mik. He made the lessons fun and engaging and was very patient. The workbook provided was lots of help and was particularly good at explaining the different manoeuvres. I liked that the book provided you with details of what the examiner was looking for in the test. The videos were helpful as they showed clearly how to carry out the different manoeuvres.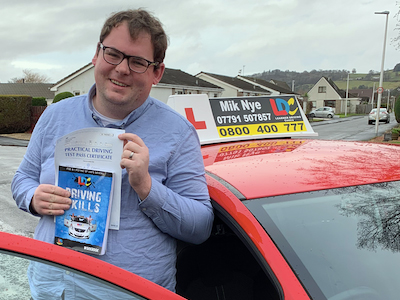 James Palmer
First Time Pass
Mik is an excellent instructor, he is professional, calm and incredibly patient, with a good sense of humour. He has high standards and expects the best from those that he teaches, which always get results. I passed first time and i believe that all of that was down to Mik's instruction.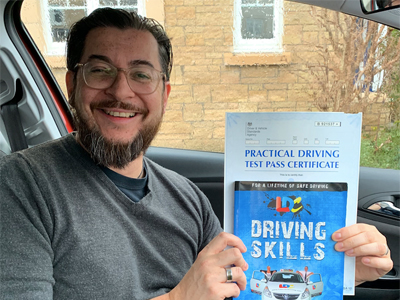 Greg SINGH
2nd Time lucky
The resources provided were very useful throughout the learning Journey. Mik went through the materials regularly and periodically, referring to specific sections where the reading and viewing would help support the practical side. Mik is a very good communicator, and has a very direct style which sets a solid grounding for learning. As someone completely novice to driving, and with lots of confidence issues to begin with, i found Mik's style extremely beneficial and giving me the basis to build confidence quickly, with a realistic outlook on how things were developing. confidence is something that we worked on throughout the learning journey, and is something that will continue thanks to the lessons mik has imparted.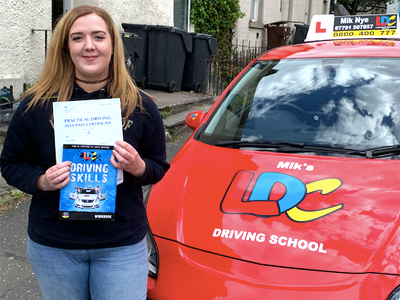 Ceri Devlin
Driving Test Pass for Anxious Driver
When I first decided to take driving lessons, I was very anxious about the whole process. But Mik was an excellent insturctor, he was very patient, knowleageable and appraochable, which made me feel much calmer. Having an insturctor who was professional, but you could also have a laugh with, made my learning experience an enjoyable one. I found the LD system very helpful; the workbook and videos were informative and easy to understand, which allowed me to gain a better understanding of all aspects of driving in my own time. Through the workbook and online student hub, I was able to track my progress ,which I found extremely helpful. The practice questions for the theory test were also a great help. I would highly reccommend Mik and the LD system of learning for anyone who wants to become a safe and confident driver.
Jenni Connelly
Passed First Time
Having a medical condition which restricted my driving, I wasn't sure that I wanted to learn how to drive. I waited 7 years after it was safe for me to drive to decide that i wanted to learn. Along with being a little older this made me a very nervous driver. From day 1, Mik understood this and made me feel extremely comfortable. Every lesson he adapted to ensure I was comfortable with what we were doing. He got to know me pretty well and knew how to push me outside my comfort zone to a level that helped my confidence with driving but never where i felt unsafe. Mik understood my learning methods and adapted his teaching style to incorporate this. He sent me additional information which helped me build my skills when out with the lessons. Even though I was nervous driving which made me worry about driving which made me worry about the lessons, Mik made me feel at ease and we had a laugh which helped me with my learning process. With Mik teaching, I was able to pass first time with only 3 minor faults. I find practical learning very difficult as i am used to learning through books. The LDC book had all the information I needed to understand the skills behind driving and they were enhanced by Mik's teaching method. The website, specifically the practice questions for the theory test were extremely useful. More videos of manoeuvres or mock tests would be very useful.
Brogan Stacey
My learning experience was a thoroughly enjoyable one and one that I would highly recommend to anyone looking to become a confident and responsible driver. As someone who is a little older, I was looking for a way to learn how to drive quickly for employment reasons. I enjoyed the flexibility and choice that was offered by the LDC and their promotion of student-centred learning. This allowed me to develop areas of my driving that I felt less confident in. The combined use of the Workbook and Online Videos contributed greatly in developing my understanding of the roads, its markings and dangers. I particularly felt that the online resources were incredibly well-made and effective in preparing me for the Theory Test and for in developing my overall 'hazard perception'. My instructor was very patient, knowledgeable and motivating, putting me well at ease throughout my learning experience. His constant assurance and insight allowed me to gain confidence quickly. He was able to communicate constructively to ensure that we were both safe at all times. The comfortable and friendly atmosphere created by my instructor is definitely the main reason I would promote this driving school and its courses to other people. Learning to drive can be a daunting experience, however the LDC instructors are incredibly capable and friendly enough to successfully guide you through! I cannot rate my experience high enough!
Call today on 07791 507857 or Email me to find out more
If you have any questions or to book lessons today, feel free to contact me